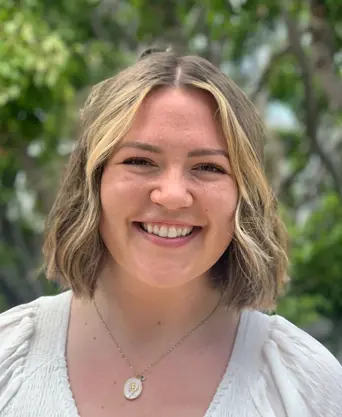 I work with couples, individuals, and families. I see children ages 6 and up, teens, and adults. I'm excited to join your mental health journey!
As a dedicated therapist and enthusiastic advocate for mental wellness, I believe that everyone deserves the opportunity to be heard and learn the skills needed for a happy and fulfilling life. There's no better way to do that than therapy! It is my goal to help each of my clients as they navigate through the pains of yesterday and worries of tomorrow so that they can live peacefully in the present. 
I have experience working in various settings including hospitals, schools, residential treatment centers, nonprofit organizations, and private practice. Through this experience I have come to realize that while there are many things that make us different, we all have a need to be seen and heard. It is my promise to listen, empathize, and offer a safe, non judgemental space for each and every one of my clients.
My approach to therapy is holistic, client-centered and relational based. I practice evidence-based therapeutic techniques including Eye Movement Desensitization and Reprocessing (EMDR), Experiential/Somatic therapy, psycho education, cognitive behavioral therapy (CBT), and dialectical behavioral therapy (DBT). I also utilize techniques from the Gottman Institute and emotion focused therapy for my work with couples. 
You have already taken the first, brave step in your mental health journey. Now it's time to take the leap! See you in therapy.
Additional Advanced Training
QPR Suicide Intervention and Prevention by the QPR Institutue
EMDR basic training by the Center for Excellence – Deany Lalotis
Using EMDR with Children and Teens: Incorporating Playful Solutions for Powerful Healing – Center for Excellence
Rocky Mtn. Sex Summit- Language, Gender, and Social Justice: Deconstructing the Narrative of Sex
Positive Discipline Parent Educator – Positive Discipline Association
Internal Family Systems and Sand Tray Play – Carmen Jimenez-Pride
Complex Trauma Training: A strength-based Approach for Treating Complex PTSD – Arielle Schwartz
Multicultural Awareness and Diversity: Powerful Strategies to Advance Client Rapport and Cultural Competence – Lambers Fisher
Treating Fire Service Professionals: Building Cultural Competency – Molly Jones
Utilizing EMDR When Working With Fire Service Members – by Molly Jones and Ari Brooks
Addressing Behavioral Health in the Fire Service – by Molly Jones
Neurodiversity Clinical Considerations Collection Trainings
Twice Exceptional Clients (ADHD & Autism) Considerations – Grace Malonai
Autism: Clinical Considerations – Grace Malonai
ADHD and Executive Functioning Clinical Considerations – Grace Malonai
EMDR Certification in process
Hours
Monday - Saturday 8am - 8pm
Closed Sundays