Julie McAllister, MA, LPC, NCC
Sonoran Sage Counseling, PLLC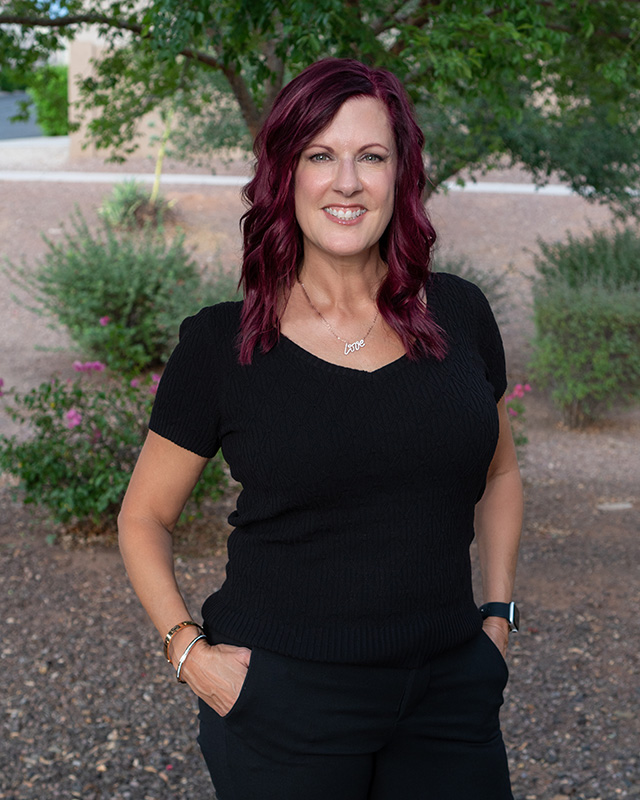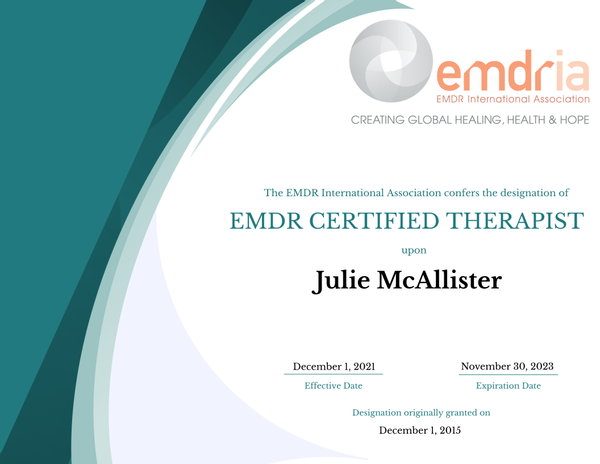 Hello there!  I'm looking forward to meeting you.
As your therapist, my goal is to help you to draw from the strength and resources within to help you heal and grow. Empowering you to utilize your own insight and wisdom, I will work with you in a collaborative, supportive manner. Using an authentic and nonjudgmental approach, I will partner with you in the journey of healing and nourishing the spirit. I practice evidenced-based therapeutic techniques. Using Eye Movement Desensitization and Reprocessing (EMDR), I am able to conduct very successful therapy with clients with traumatic backgrounds. I have worked with families, teens, adults and seniors.  I also have extensive experience working in the LGBT community. I know that relationships can be difficult, however the most challenging relationship of all is the one that we have with our self. Throughout our work together you will discover your true self and the ability to have the relationships, family, and life that you desire.
I work with individuals ages 18 and up.
I am an Arizona board approved Clinical Supervisor.
Additional Advanced Training
EMDR Recent Traumatic Episode Protocol
Mindful Resonance with EMDR Therapy – Irene Siegel
Treating Complex Trauma with EMDR Therapy: Working with the Body and Attachment – Deany Laliotis
Dance of Attachment: An EMDR Relational Approach – Deany Laliotis
Treating Early Attachment Wounds with Sensorimotor and EMDR Therapy – Lana Epstein
Implicit Trauma Protocol Training – Katie O'Shea
Healing the Wounds of Attachment and Rebuilding Self – Deany Laliotis
Structural Dissociation Training – Sara Jenkins
Relational EMDR Therapy: Taking the Journey to the Next Level – Deany Laliotis
​​Simplifying Complex PTSD: New Treatment Approaches and EMDR 2.0 – Ad de Johngh, Ph.D and Suzy Matthijssen, Ph.D
Treating First Responders and Military with EMDR Therapy: Foundations for Effective EMDR Treatment – Dr E.C. Hurley
US Journal International Conference and Trauma and Addiction 2019 – Bessel Van der Kolk, Janina Fisher Ph.D, Alan Downs Ph.D.
Annual EMDRIA Conferences 2015, 2017, 2019, 2023
Treating Religious and Spiritual Trauma with EMDR – Cassidy DuHadway
Delivering EMDR within Culturally-Sensitive Contexts – Susan Darker-Smith
Treating Oppression Trauma with EMDR Therapy: But first, our own work! – Roshni Chabra
Utilization of EMDR Therapy with Grief and Mourning – Roger Solomon
Dick Schwartz's Internal Family Systems Master Class: Experience IFS in Action with Complex Trauma and PTSD
Psychedelics in Therapy, Gabor Mate, MD; Richard Schwartz, PhD; Elizabeth Nielson, PhD, Ingmar Gorman, PhD
EMDR Consultant in Training
Hours
Monday - Saturday 8am - 8pm
Closed Sundays