Andrea "Andi" White, M.Ed., MSC, LPC, CCTP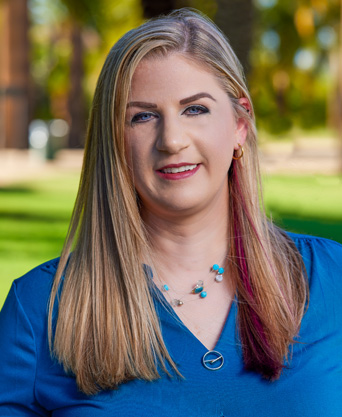 Hello and welcome! I am looking forward to meeting you.
First, let me acknowledge you for having the courage, inner wisdom and self-compassion to invest in yourself and do this healing work. One of my greatest joys is supporting clients during their journeys to achieve lasting change and witnessing their profound transformations as they heal. I believe in helping clients not just recover, but in transcending into thriving, healthy, happy humans. I work in a spirit of safety, trust, collaboration, nonjudgment, and authenticity. Many of my clients describe me as down-to-earth and appreciate my sense of humor.
I have 11 years counseling experience working with young children, adolescents, adults, families, military personnel and first responders. I am passionate about working with individuals who have experienced trauma, anxiety, depression, grief and loss as well as substance abuse issues. I am strengths-based, person-centered and open to all cultures, religious beliefs, orientations and preferences. I use an integrated approach incorporating various therapeutic interventions such as Cognitive Behavioral Therapy, EMDR, Trauma-Focused CBT, Dialectical Behavior Therapy (DBT), Motivational Interviewing (MI), somatic interventions, psychoeducation, play therapy, mindfulness, relaxation training, virtual reality (for meditation), energy psychology (EFT) and more to come!
I work with individuals of all ages and would be honored to partner with you.
Additional Advanced Training
Complex Trauma Certification Training – CCTP Level II In progress
Certified Clinical Trauma Professional (CCTP Level I) since 2017 (Arizona Trauma Institute and International Association of Trauma Professionals)
33rd Annual International Trauma Conference: Psychological Trauma, Embodiment, and the Restoration of the Self – 2022
Attachment, Trauma & Psychotherapy: Neural Integration as a Pathway to Resilience and Well-Being – Dan Siegel, M.D.
David Kessler on Healing Grief: Finding Comfort After Death, Divorce & Betrayal
Trauma-Focused CBT, MUSC
Trauma-Focused CBT with Childhood Traumatic Grief MUSC
Arizona Child and Adolescent Survivor Initiative – NAU 2016
Structured Sensory Interventions -National Institute for Trauma and Loss in Children
Ethical Practices Specific to Trauma Treatment – Arizona Trauma Institute 2017
Multicultural Perspectives of Trauma Treatment – Arizona Trauma Institute 2017
American Professional Society on the Abuse of Children Advanced Training Summit 2017
Nurturing Parenting Program Seminar and Facilitator Training
Circle of Security Parenting Training – 2012
Infant and Family Clinical Studies – The Harris Infant and Early Childhood Mental Health Training Institute 2013
Haunted: EMDR for First Responders and Professionals in the Trenches – Dr. Robbie Adler-Tapia, PhD
The Science of Energy Healing 1 – ACEP
EMDR for Kids: Trauma-Informed Strategies for Young Clients and Their Grown-Ups – Christine Mark-Griffin, LCW
EMDR & IFS PARTS Protocol – Dr. Kendhal Hart, LPC-S
EMDR 2.0: An Enhanced Version of EMDR Therapy – Ad de Jongh/Suzy Matthijssen
Simplifying Complex PTSD: New Treatment Appraoches3/27/236 – Ad de Jongh/Suzy Matthijssen
Emotional Freedom Techniques Professional Skills 1 & 2 – Robert Schwarz/Michael DeMolina
Understanding the Fire Service for Mental Health Clinicians – International Association of Fire Fighters
CCTP Level 1 (Certified Clinical Trauma Professional Level 1 – Level 2 in progress) – Janina Fisher
Attachment, Trauma & Psychotherapy: Neural Integration as a Pathway to Resilience and Well-Being – Dan Siegel, MD
Prenatal Trauma: Multicultural Perspective of Trauma Treatment Arizona Trauma Institute – James Wilson, DBH
EMDR Basic Training Level 1 & 2 – Roy Kiessling
Neurophysiology of Addiction & Brain Based Relapse Prevention – Tim Worden, Ph.D
Nurturing Parenting Program Facilitator Training – Nurturing Parenting Programs Stephen Bavolek, Ph.D
Infant/Family Clinical Studies – Harris Institute
Circle of Security Parenting Training (Parent Educator) – Circle of Security
EMDR Certification in process
Hours
Monday - Saturday 8am - 8pm
Closed Sundays